iWave Is the First Air Purifier Shown to Inactivate SARS-Cov-2

Help Eliminate COVID-19 with an iWave Air Purifier.
Want to safeguard your home or office during the Covid-19 pandemic? Seaside Air has the ideal solution.
We are now offering the installation of an HVAC air filter that will clean, freshen, and greatly reduce SARS-Cov-2, responsible for Covid-19, and other viruses from the air in your home or office. The iWave air purifier, the first air purifier to be tested against Covid-19, inactivates 99.4% of the virus. Independent lab tests have proven that the iWave significantly reduces Covid-19 and many additional pathogens in indoor environments, not only in the air but also on hard, non-porous surfaces. According to these lab tests run on the iWave-C model, based on viral titrations, it was determined that:
At 10 minutes, 84.2% of the virus was inactivated.
At 15 minutes, 92.6% of the virus was inactivated.
At 30 minutes, 99.4% of the virus was inactivated.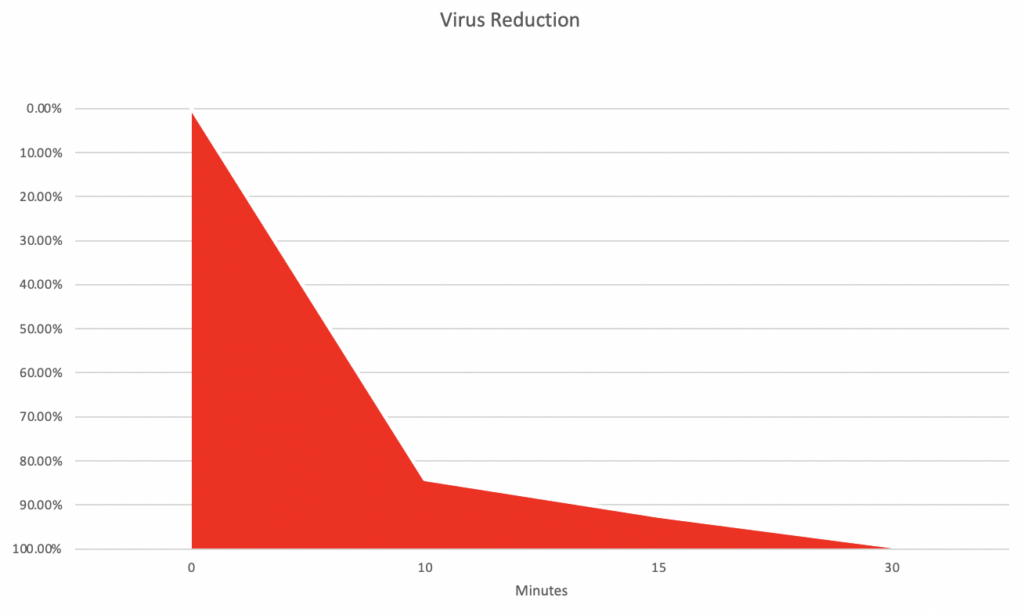 Results like these show that the iWave is a powerful weapon for fighting Covid in your home and office. We have seen how Covid-19 has upended our everyday lives in more ways than one, and public health experts agree it's not going away soon.
Keep reading to discover the benefits of iWave purifiers, how they work, and how our licensed HVAC experts can make the air you breathe safer by installing an iWave purifier in your home or business.
Viruses and other pollutants are dangerous outdoors but are even more harmful indoors because there's less airflow. A simple thing like dust in the home and office can act as a magnet to bacteria, viruses, and dust mites. Chemical pollutants, bacteria, and mold also present elevated risks indoors. Even office equipment, like computers, printers, and photocopiers, can cause pollution. Air purifiers help to eliminate these unhealthy pathogens, irritants, and unwanted odors.
Air purifier benefits include:
Eliminating asthma attack triggers
Eliminating allergens, such as dust and pet odors
Trapping tobacco and cigarette smoke
Eliminating radon gas
Lowering carbon dioxide levels
Lessening the contamination in hospitals and health clinics
In addition to purifying the air, the iWave air purifier mitigates the genuine risks from the current Covid-19 health crisis. And it's popular, already boasting over 200,000 installations in commercial and residential environments.
iWave purifiers:
Inactivate SARS-Cov-2, responsible for COVID-19
Reduce allergens
Kill mold, bacteria, and viruses
Reduce odor, smoke, static electricity, and dust in the air
iWave air purifiers clean the air of contaminants through your home or office's HVAC system and are a simple installation for our HVAC technicians.
How iWave air purifiers work
An HVAC technician will install an iWAVE air purifying device into your duct heating and air conditioning system. When the air inside passes over the iWave unit, the unit produces ions that reduce pathogens, allergens, particles, smoke, and odors in the air. Air filtration creates a healthy, purified indoor environment without the production of harmful byproducts. iWave's patented technology, needle-point bi-polar ionization (NPBI), breaks down passing pollutants and gases into harmless compounds like oxygen, carbon dioxide, nitrogen, and water vapor.
When the ions encounter viruses, bacteria, and mold, they remove the hydrogen molecules — without them, the pathogens have no energy source and will die. When the ions attach to allergens like pollen and various other particles, they cause them to band together until they're large enough to be caught by your ventilation system's air filter.
Nature uses shear and energy to break apart molecules, clean the air, and produce a healthy environment. iWave's technology emulates the natural process, generating the same ions that nature creates with waterfalls, ocean waves, lightning, etc.
The difference between nature and iWave's technology is that iWave cleans your air without producing harmful ozone. Ozone is a toxic gas that nature, and some other air purifiers on the market, emit while "cleaning" the air in your home. It is dangerous when an air purifier emits ozone inside the confined space of your home or office. According to the EPA, when inhaled, even in relatively low amounts, ozone can cause chest pain, coughing, shortness of breath, and throat irritation. Ozone may worsen chronic respiratory diseases like asthma and compromise the body's ability to fight respiratory infections.
iWave purifiers do NOT develop ozone.
Advantages of iWave
IWave's proprietary technology provides a highly effective and budget-friendly air purification method. Other air purifiers typically require ongoing maintenance with bulb/cell replacement every year or two, which is an expensive hassle. iWave purifiers, on the other hand, don't require continual maintenance and have no replacement parts. As mentioned earlier, they also don't produce harmful byproducts, like ozone.
iWave warranty
Nu-Calgon, the manufacturer of iWave, offers a three-year limited warranty on iWave products. To validate a warranty claim, proof of purchase and proof of installation by a licensed HVAC or electrical contractor must be provided. Fitch Services will be able to help you there.
iWave models
There are four iWave purifier models – the iWave-R, the iWave-V, the iWave-M, and the i-Wave C. The iWave-R is a no-maintenance air purifier for residential systems. The iWave-V is a low maintenance air purifier for residential systems. The iWave-M is a mini flexible air purifier for ductless and other HVAC systems. The iWave-C is a no-maintenance air purifier for commercial and residential systems.
Though models differ slightly and offer their own advantages, all iWave purifiers feature:
Proven NPBI technology
Active air purification of the whole house or business space
Massive reduction of Covid-19 and other viruses, mold, and bacteria
Reduction of allergens, odors, smoke, and particles
No replacement parts — the total cost of ownership is less than other options
Installation into any air conditioning or heating system
UL and cUL approved
Three-year warranty
You need more than the average air purifier to clean the air of coronaviruses. The iWave air purifier is the solution that has been proven to inactivate Covid while you and your family work and enjoy your life. This virus is nothing to mess around with. Get the added protection you and your family need from the iWave air purifier.
Social distancing is becoming harder to do with friends and family as the virus marches on. At some point, you'll want to invite your friends and family over. Also, many of you are working at the office and other places of business. With the installation of an iWave, you can breathe easier knowing the air you're inhaling is cleaner.
Think about the benefits of purified air:
Breathe deeply and more comfortably
Have confidence the air you and your family breath is cleaner
Spend more time relaxing, instead of dusting and vacuuming
Welcome guests into your home and have less worry at work.
Lower your exposure to allergens, viruses, and germs
The iWave air purifier is only available by professional installation from a licensed technician. The installation will be fast and easy when handled by one of our licensed HVAC technicians. Fitch Services can schedule your safe installation appointment over the phone, so you can have your iWave air purifier installed and working right away!
Clean your indoor air and promote a healthy immune system.
Why wait? Have your HVAC professional install an iWave air purifier now.
Slowing down and taking a deep breath could do many of us good in this stressful time. Unfortunately, due to the Covid-19 pandemic, the air you're currently breathing could actually be hurting instead of helping you.
Since the beginning of 2020, Covid-19 has been wafting in and out of the environments we frequent. It's caused us to become even more aware of the need for pure, clean air – air free of viruses, bacteria, dust odors, and mold.
You probably know by now that Covid is spread through droplets, expelled by those in close contact with us, and aerosols (small droplets that "hang" in the air around us, even after the person who emitted them is gone). Aerosols are particularly concerning in indoor environments, which tend to have much less ventilation than the outdoors.
Many of us are already spending a lot of time indoors during this coronavirus pandemic. And with winter fast approaching in Charlottesville, we'll be spending even more time inside escaping the cold. Your home is your comfort space, your resting place, your office, your own personal restaurant; the last worry you should have while inside your four walls is if you're breathing in dangerous particles that could make you and your family sick. And if you work in an office or any indoor place of business, you want to breathe clean, fresh air.